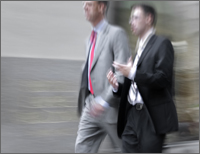 "As with the other courses that I have taken with this CLE provider, I found the information contained in this course to be exceedingly relevant in my current practice areas."
Corey Thompson,
Attorney
"I really liked the conversational nature of the course and found it to be very engaging, helpful and informative. Much more fun than I have experienced before in a CLE program."
Nicole Stach,
Morgan Lewis
"Fantastic, helpful and insightful ... different from any previous CLE class I have taken."
Michael Schwartz,
Attorney
"Extremely practical how-to course filled with useful negotiation tools. Provides insight into diagnosing the needs of your negotiation opponent that will allow you to increase the chances of obtaining successful outcomes."
Shawn Doorhy,
Faegre Baker Daniels LLP
"Packed with new information most attorneys have never heard regarding negotiating skills."
Timothy Garflield,
Schwartz, Heidel Sullivan