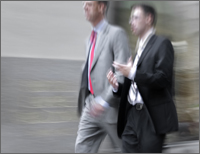 "This seminar is critical for every person who wants to succeed in the practice of law and understand and overcome the challenges inherent with representing clients."
Guy Brown,
Attorney
"Extremely practical how-to course filled with useful negotiation tools. Provides insight into diagnosing the needs of your negotiation opponent that will allow you to increase the chances of obtaining successful outcomes."
Shawn Doorhy,
Faegre Baker Daniels LLP
"Class content exceeded my expectations. I signed up merely to check off required professionalism credits, and came away with several practical tips that will be useful in my practice."
Louann Bronstein,
Stites & Harbison
"This class provided tools for dealing with conflict arising from difficult personalities and will help me better navigate such situations and achieve better results for my clients."
David Powers,
Rose Harrison & Gilreath
"The Basis of Influence Series was exceptional. The speaker did a great job bringing in useful resources, leadership principles and interesting applicable examples. "
Terri Daugherty,
Luther-Anderson