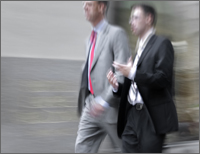 "I enjoy the Likeable Lawyer seminars far more than the typical CLE classes I attend and find the content extremely useful and original."
Stacey Witt Folk,
Attorney
"This class provided tools for dealing with conflict arising from difficult personalities and will help me better navigate such situations and achieve better results for my clients."
David Powers,
Rose Harrison & Gilreath
"This course is an eye and ear opener. Common pitfalls with clients will be easier to spot and more easily remedied after taking this seminar."
Alexis Johnson,
Attorney
"I found the seminar to provide very useful insights into people's perceptions of each other and important ideas about how to communicate more clearly and effectively. I would recommend the course to anyone."
Angus King ,
Former Governor of Maine
"Deceptively good. Better than I anticipated."
Blair Parker,
Parker and Edwards