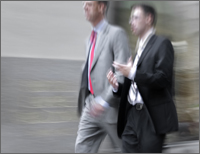 "Best CLE I've had. The technology was top notch and the presenter was like talking to a friend or co-worker. This will help me to deal better with my clients in the future."
Jeremy Hays,
Attorney, Myler Disability
"The class was a very good reminder of what makes people tick, how to more easily persuade them, and how to be a "likeable lawyer" for those of us for whom that is important."
Ned Menoyo,
Quinn Emanuel Urquhart & Sullivan
"My experience with client development was limited before this course, though now (as a result of this program) I feel much more prepared to make rain and develop my own book of business."
Eric Ballou,
The Nelson Law Firm
"This course gave me practical tools I can use to be more effective in my work, and did it in an entertaining way. Like other Likeable Lawyer programs, this was enjoyable, effective, and a convenient way to meet CLE requirements."
Chris Kallaher,
Direct Energy
"Likeable Lawyer seminars are the only CLEs I actually put to use - over and over again. My contract negotiations are much less stressful due to the techniques and knowledge I've gained from The Likeable Lawyer."
Marie Jordan,
JP Morgan Chase