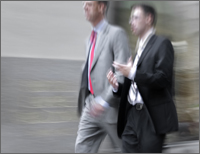 "This program is terrific, the content outstanding. It provided step-by-step advice about how to create a more successful and rewarding law practice."
Elizabeth Thompson,
Jones Bothwell Dion & Thompson
"Class content exceeded my expectations. I signed up merely to check off required professionalism credits, and came away with several practical tips that will be useful in my practice."
Louann Bronstein,
Stites & Harbison
"The Likeable Lawyer was, without a doubt, the best CLE class I have ever taken. Thank you!"
David Warner,
Casa del Hispano
"This is my third or fourth course with the Likeable Lawyer. Just like with my previous experiences, this course caused me to think about an aspect of representing real people - being aware of my clients' expectations that is often forgotten, taken for granted, or assumed to be handled. Thank you for giving me new skills to help me meet and exceed client expectations. "
Lucia McLaren,
Johnson Becker
"One of the best MCLE classes I've ever taken because it has such broad application. It's not just for interacting with clients but with all human beings, and we could all use a primer or refresher on that! As I sat in class I thought to myself: This should be taught in law school. "
Kristin Matsuda,
Attorney