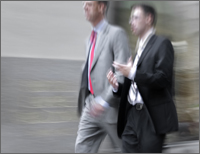 "This course is an eye and ear opener. Common pitfalls with clients will be easier to spot and more easily remedied after taking this seminar."
Alexis Johnson,
Attorney
"Excellent program for all lawyers that offers different methods to improve interactions with clients, opposing counsel and staff. "
Scott Allinson,
Norris, McLaughlin & Marcus
"A very interesting, insightful presentation. The seminar flew by."
Dan Pinkston,
U.S. Department of Justice
"The course taught practical guidance and helpful reminders on effective lawyering, and did so in a surprisingly interesting and motivational way."
Lynne Lagarde,
Earl, Curley & Lagarde
"One of the best—and certainly the most practical—seminars I have taken on negotiation."
Paige Williams,
FedEx Corp. Legal Dept.