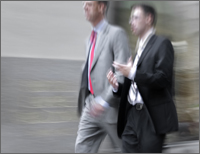 "Best CLE I've had. The technology was top notch and the presenter was like talking to a friend or co-worker. This will help me to deal better with my clients in the future."
Jeremy Hays,
Attorney, Myler Disability
"The Likeable Lawyer was, without a doubt, the best CLE class I have ever taken. Thank you!"
David Warner,
Casa del Hispano
"This course hit the spot!"
Brenda Dominguez,
Arizona Supreme Court
"Very interesting CLE. Extremely relevant, broadly applicable, and great concepts that will change my daily interactions with clients and others."
Jane Huang,
Hogan Lovells
"You will negotiate better after taking this course. I liked the seamless relation of Aristotelian principles to the neuroscience of what gets people to agree."
Marie Jordan,
Attorney, JP Morgan Chase