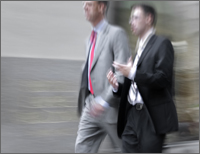 "One of the best classes I have attended. It was very thought-provoking with real-world scenarios and important human/emotional insights which will be useful in dealing with clients."
Henry Koltys,
Mediation for Resolution
"Classes like this -- on human interactions -- are as valuable as any substantive CLE we might take. Interacting with people is fundamental to what we do. The legal profession needs more of this type of teaching. The program is very well curated, and Brian does an excellent job."
Michael Hamilton,
DLA Piper LLP
"This course provides vital techniques for success in the practice of law. I have attended other seminars on these topics, and this was the best."
Karen Douglas,
Corning Incorporated
"I really liked the conversational nature of the course and found it to be very engaging, helpful and informative. Much more fun than I have experienced before in a CLE program."
Nicole Stach,
Morgan Lewis
"This course was vastly superior in subject matter to any other CLE I've attended. The material is brilliant. Most importantly, it reminded me that there is an art and beauty to our practice."
Caitlin Stewart,
Persels & Associates