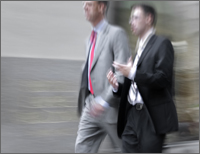 "I found the seminar to provide very useful insights into people's perceptions of each other and important ideas about how to communicate more clearly and effectively. I would recommend the course to anyone."
Angus King ,
Former Governor of Maine
"You will negotiate better after taking this course. I liked the seamless relation of Aristotelian principles to the neuroscience of what gets people to agree."
Marie Jordan,
Attorney, JP Morgan Chase
"This seminar is critical for every person who wants to succeed in the practice of law and understand and overcome the challenges inherent with representing clients."
Guy Brown,
Attorney
"Provides a helpful framework for understanding other interested parties in order to improve resolution of legal disputes, negotiations and interactions."
Christopher Kennedy,
Baker Botts
"This program discusses ethos, pathos and logos not only in building professional relationships generally, but also makes it relevant to each participant's individual situation. The webinar is interactive and entertaining which is sometimes rare for a program with a basis in ethics. Highly recommended."
Amanda Owens,
White & Allen