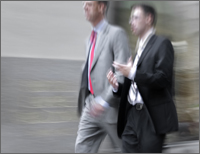 "The value of this class is extremely high."
Kenneth A. Miller III,
Miller Law Offices PLLC
"This class provided tools for dealing with conflict arising from difficult personalities and will help me better navigate such situations and achieve better results for my clients."
David Powers,
Rose Harrison & Gilreath
"Absolutely fabulous CLE! The Basis of Influence Series is very thoughtful and tackles interpersonal relationships that lawyers encounter. The lessons will greatly affect the practice of law for anyone and these topics are not often approached or discussed."
Jane Harvey,
Attorney
"Very interesting CLE. Extremely relevant, broadly applicable, and great concepts that will change my daily interactions with clients and others."
Jane Huang,
Hogan Lovells
"One of the best classes I have attended. It was very thought-provoking with real-world scenarios and important human/emotional insights which will be useful in dealing with clients."
Henry Koltys,
Mediation for Resolution