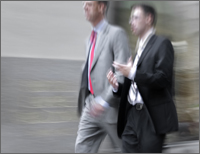 "Exceeded my expectations! Best ethics-related course I've ever taken."
Solomon Hunter,
Pepper Hamilton
"You will negotiate better after taking this course. I liked the seamless relation of Aristotelian principles to the neuroscience of what gets people to agree."
Marie Jordan,
Attorney, JP Morgan Chase
"The entire Basis of Influence series has exceeded my expectations and it is life-altering. Very worthwhile!"
Susan Valentine,
Robinson, Curley and Clayton
"The class was a very good reminder of what makes people tick, how to more easily persuade them, and how to be a "likeable lawyer" for those of us for whom that is important."
Ned Menoyo,
Quinn Emanuel Urquhart & Sullivan
"I wish all of my CLE classes were this enjoyable and meaningful; which would make getting my 12 hours a year something to look forward to rather than dread."
Robert Brent Crews,
Crews Law Firm