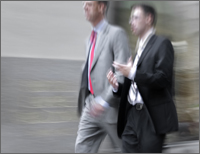 "I found the seminar to provide very useful insights into people's perceptions of each other and important ideas about how to communicate more clearly and effectively. I would recommend the course to anyone."
Angus King ,
Former Governor of Maine
"Extremely practical how-to course filled with useful negotiation tools. Provides insight into diagnosing the needs of your negotiation opponent that will allow you to increase the chances of obtaining successful outcomes."
Shawn Doorhy,
Faegre Baker Daniels LLP
"The class was very enjoyable. It contains real life insight into how to effectively deal with everyone I deal with in the practice of law."
Deborah Truitt,
Truitt and Lyons
"Very good value. Valuable and dynamic material. The course exceeded my expectations."
Mary Bittence,
Baker & Hostetler
"This course gives a thoughtful and well-grounded analysis of persuasion theory. Very insightful."
Lee Mickus,
Taylor Anderson LLP