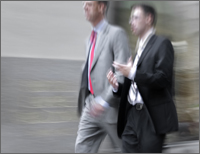 "Very informative, entertaining, and useful for attorneys in all practice areas, not just litigators."
Allison Turnbull,
Baker Hostetler
"Excellent aid in a high-stress environment. Very interesting and helpful. More importantly, it kept my attention. This guy offers quite a few insights that you might not ever think of."
David G. Utley,
Davis & Young
"The class had a lot of practical content and challenged me in concrete and believable ways."
John Shenk,
Ervin, Cohen and Jessup
"Excellent course. I enjoyed the wide scope of the presentation and the unusual variety of useful information."
Carl Forest,
Patton Boggs
"Very interesting content that made me think about the PROCESS of negotiation in aways I hadn't before. Essential for all attorneys."
Leah W. Sprague,
Attorney