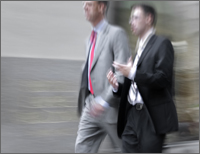 "The class was a very good reminder of what makes people tick, how to more easily persuade them, and how to be a "likeable lawyer" for those of us for whom that is important."
Ned Menoyo,
Quinn Emanuel Urquhart & Sullivan
"Thought provoking, entertaining and informative. The instructor made the material come to life."
Gretchen Jacobs,
Arizona Governmental Affairs
"Exceeded my expectations with practical tools on the little things that can dramatically improve communication with clients, counsel and colleagues."
Joseph Green,
Baker, Donelson, Bearman, Caldwell & Berkowitz
"Excellent aid in a high-stress environment. Very interesting and helpful. More importantly, it kept my attention. This guy offers quite a few insights that you might not ever think of."
David G. Utley,
Davis & Young
"I wish all of my CLE classes were this enjoyable and meaningful; which would make getting my 12 hours a year something to look forward to rather than dread."
Robert Brent Crews,
Crews Law Firm