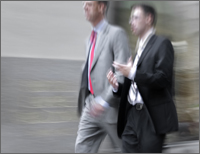 "Excellent examination of the solutions for client satisfaction that are often over-looked during representation."
Ryan Thompson,
Godin & Baity
"This class is so much more interesting than 99% of the CLE's I've ever taken. The tools I've learned apply to many areas of my life. Thank you so much!"
Nancy Martinez,
Law Offices of Nancy Martinez
"I was pleasantly surprised with the depth or probing of human motivations and the promotion of seeking win-win resolutions, a trait that I find sorely missing in the profession."
Mark Baker,
Attorney
"I thought it would be another dry ethics and professionalism course, but it was the most exciting and practical course I have attended."
Richard Crollett,
New Mexico Workers' Compensation Administration
"This was one of the best CLEs I have ever attended in 20+ years of practice. The substantive content was meaningful and can be applied immediately to both legal and personal interactions. A refreshing change from the "norm" of presenters reading their PowerPoint slides."
Lois Eisenstein,
Attorney, University of Arizona