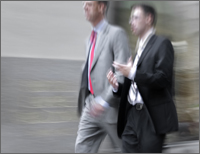 "Excellent. Makes you reevaluate your interactions with other lawyers. staff and clients towards becoming more successful as a lawyer and person."
Brad Goodwin,
Attorney
"Practical, sound advice. The best use of my time in a CLE course — ever."
Amy Burgert,
Mayer Brown
"This seminar is critical for every person who wants to succeed in the practice of law and understand and overcome the challenges inherent with representing clients."
Guy Brown,
Attorney
"Engaging and articulate facilitator, clear and well organized presentation, great content. "
James Ficaro,
The Weiser Law Firm
"Very interesting and informative CLE. One of the best that I have participated in."
Chris Bergeman,
Righi Law Group