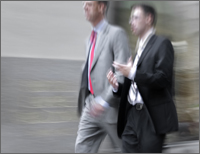 "This class is so much more interesting than 99% of the CLE's I've ever taken. The tools I've learned apply to many areas of my life. Thank you so much!"
Nancy Martinez,
Law Offices of Nancy Martinez
"I found the seminar to provide very useful insights into people's perceptions of each other and important ideas about how to communicate more clearly and effectively. I would recommend the course to anyone."
Angus King ,
Former Governor of Maine
"Very enlightening and useful information that I can't imagine getting in any other course for continuing education. You are so right, this was never covered in law school."
J. Wesley Bailey,
Attorney
"My experience with client development was limited before this course, though now (as a result of this program) I feel much more prepared to make rain and develop my own book of business."
Eric Ballou,
The Nelson Law Firm
"Very informative and effective seminar! One of my favorites!"
Mary Ellen Spiece,
Wilkes & McHugh