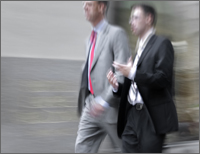 "The value of this class is extremely high."
Kenneth A. Miller III,
Miller Law Offices PLLC
"This class will be very useful, giving great practical analysis of ways to communicate and persuade, and help move my positions along in all parts of my life, professionally and personally."
Michael Jaskolsky,
Quarles & Brady
"Likeable Lawyer programs help lawyers lead more fulfilled careers and would benefit every lawyer. The Aristotelian principles covered will help me become a more valuable and influential lawyer. "
John Hammond,
Ice Miller, LLP
"This course was vastly superior in subject matter to any other CLE I've attended. The material is brilliant. Most importantly, it reminded me that there is an art and beauty to our practice."
Caitlin Stewart,
Persels & Associates
"Best CLE I've had. The technology was top notch and the presenter was like talking to a friend or co-worker. This will help me to deal better with my clients in the future."
Jeremy Hays,
Attorney, Myler Disability