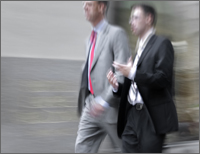 "Deceptively good. Better than I anticipated."
Blair Parker,
Parker and Edwards
"This program discusses ethos, pathos and logos not only in building professional relationships generally, but also makes it relevant to each participant's individual situation. The webinar is interactive and entertaining which is sometimes rare for a program with a basis in ethics. Highly recommended."
Amanda Owens,
White & Allen
"The course exceeded my expectations. The workbook was excellent and the use of film clips made the course enjoyable."
Lindsey Chepke,
Attorney, Duke University
"The class content exceeded my expectations and caused me to think about the kind of person I come across as, which is important but not a subject lawyers are usually trained on."
John Lamb, Attorney,
Caterpillar Financial Services
"You will negotiate better after taking this course. I liked the seamless relation of Aristotelian principles to the neuroscience of what gets people to agree."
Marie Jordan,
Attorney, JP Morgan Chase