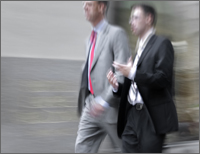 "This course demonstrates the importance of pathos in persuasion with realistic examples of how communication and negotiation can go awry, and how it can be righted."
Christine Dehney,
Attorney
"Useful for all lawyers, newly practicing or established."
Alice Carmichael Richey,
Parker Poe Adams & Bernstein
"Excellent balance of applicable knowledge with real world examples. A fun way to satisfy CLE requirements from my desktop. The instructor was prepared and easy to follow."
James Hall,
Hall Johnson LLC
"As a college professor, I am keenly aware that it is just as important in the delivery of information as it is in the content of that which is being delivered. I am pleased to say that The Likeable Lawyer was successful in creating a confluence where the two met with remarkable results."
Sherman Anderson,
Attorney
"The course content and concepts were absolutely excellent! I cannot think of a more helpful course for any lawyer to take. I have practiced law for 38 years and have never attended a course that had more practical, concrete and excellent information for lawyers."
Nina Preston,
Attorney, Arizona Supreme Court