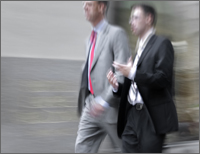 "The value of this class is extremely high."
Kenneth A. Miller III,
Miller Law Offices PLLC
"The class had a lot of practical content and challenged me in concrete and believable ways."
John Shenk,
Ervin, Cohen and Jessup
"I thought it would be another dry ethics and professionalism course, but it was the most exciting and practical course I have attended."
Richard Crollett,
New Mexico Workers' Compensation Administration
"The most interesting and useful MCLE courses I have ever taken in my 20+ years of taking courses."
Jeremy Katz,
Pinnacle Law Group
"The class content exceeded my expectations and caused me to think about the kind of person I come across as, which is important but not a subject lawyers are usually trained on."
John Lamb, Attorney,
Caterpillar Financial Services