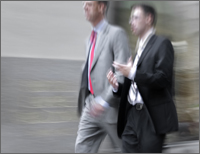 "I was pleasantly surprised with the depth or probing of human motivations and the promotion of seeking win-win resolutions, a trait that I find sorely missing in the profession."
Mark Baker,
Attorney
"Content was excellent. I had never taken a webinar class but thought it worked very well."
Holly Wheeler,
U.S. Dept. of the Interior, Office of the Solicitor
"One of the best classes I have attended. It was very thought-provoking with real-world scenarios and important human/emotional insights which will be useful in dealing with clients."
Henry Koltys,
Mediation for Resolution
"Very informative and effective seminar! One of my favorites!"
Mary Ellen Spiece,
Wilkes & McHugh
"This course gives lawyers tools to better balance life and work."
Mark Glasser,
King & Spalding