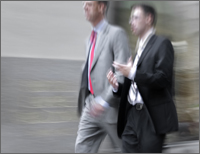 "The Trusted Lawyer is easily the best CLE investment I made all year. "
Joseph F. Capello,
Stathopulos & Associates
"The instruction was outstanding, giving insight into the components and importance of effective communication and influence."
Mike Chibaya,
McGuire Woods
"One of the best MCLE classes I've ever taken because it has such broad application. It's not just for interacting with clients but with all human beings, and we could all use a primer or refresher on that! As I sat in class I thought to myself: This should be taught in law school. "
Kristin Matsuda,
Attorney
"This course was filled with concrete examples, and teaches important fundamentals for improving lawyer and client relationships."
Michael Russ,
King and Spalding
"The program content is suited well for lawyers no matter what area of practice. Both in handling client relationships and adversary relationships with other lawyers. It is a good value. "
James P. Burnett,
Lutz, Burnett, McDermott, Jahn & King