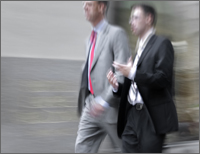 "This was one of the best seminars I have participated in. The information was useful, practical, insightful and empowering. It was definitely more than I had anticipated or expected."
Therese Picard,
Daley & Orton
"Excellent program for all lawyers that offers different methods to improve interactions with clients, opposing counsel and staff. "
Scott Allinson,
Norris, McLaughlin & Marcus
"As a college professor, I am keenly aware that it is just as important in the delivery of information as it is in the content of that which is being delivered. I am pleased to say that The Likeable Lawyer was successful in creating a confluence where the two met with remarkable results."
Sherman Anderson,
Attorney
"I was surprised by how interesting and different this class was from typical CLE courses. It was a lot more intellectual and captivating than most."
Amber Kauffman,
Sessoms & Rogers
"Classes like this -- on human interactions -- are as valuable as any substantive CLE we might take. Interacting with people is fundamental to what we do. The legal profession needs more of this type of teaching. The program is very well curated, and Brian does an excellent job."
Michael Hamilton,
DLA Piper LLP