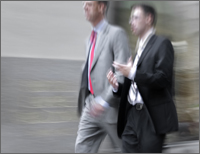 "This course gives lawyers tools to better balance life and work."
Mark Glasser,
King & Spalding
"Excellent and extremely eye opening. This really is worthwhile!"
Doug Grinnell,
Epsten Grinnell & Howell
"The course was excellent, insightful and lent itself to immediate application."
Tracee Lewis,
Baker Botts
"I found the seminar to provide very useful insights into people's perceptions of each other and important ideas about how to communicate more clearly and effectively. I would recommend the course to anyone."
Angus King ,
Former Governor of Maine
"The class had a lot of practical content and challenged me in concrete and believable ways."
John Shenk,
Ervin, Cohen and Jessup