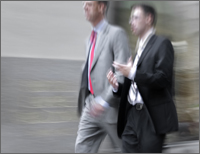 "The entire Basis of Influence series has exceeded my expectations and it is life-altering. Very worthwhile!"
Susan Valentine,
Robinson, Curley and Clayton
"The class was a very good reminder of what makes people tick, how to more easily persuade them, and how to be a "likeable lawyer" for those of us for whom that is important."
Ned Menoyo,
Quinn Emanuel Urquhart & Sullivan
"This is my third or fourth course with the Likeable Lawyer. Just like with my previous experiences, this course caused me to think about an aspect of representing real people - being aware of my clients' expectations that is often forgotten, taken for granted, or assumed to be handled. Thank you for giving me new skills to help me meet and exceed client expectations. "
Lucia McLaren,
Johnson Becker
"The Likeable Lawyer's programs are dynamic and valuable, focusing you on the essence of how to achieve your professional goals."
Robert Converse,
Fulbright & Jaworski
"I found this CLE course to be thought-provoking, beneficial and practical, both as a litigator and as managing partner of my law firm. It far exceeded my expectations."
Melody Hurdle Eagan,
Lightfoot Franklin & White, LLC