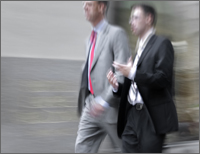 "One of the best—and certainly the most practical—seminars I have taken on negotiation."
Paige Williams,
FedEx Corp. Legal Dept.
"A surprisingly fun and thought-provoking way to get CLE, including the dreaded ethics credits!"
Linda Laarman,
Attorney
"Content was excellent. I had never taken a webinar class but thought it worked very well."
Holly Wheeler,
U.S. Dept. of the Interior, Office of the Solicitor
"Excellent. Makes you reevaluate your interactions with other lawyers. staff and clients towards becoming more successful as a lawyer and person."
Brad Goodwin,
Attorney
"Insightful, engaging and provocative. Brian is very knowledgable and an excellent speaker."
Claire Miller,
Alcoa