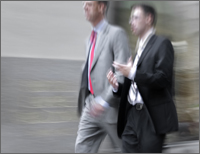 "Provides a helpful framework for understanding other interested parties in order to improve resolution of legal disputes, negotiations and interactions."
Christopher Kennedy,
Baker Botts
"The course exceeded my expectations. The workbook was excellent and the use of film clips made the course enjoyable."
Lindsey Chepke,
Attorney, Duke University
"Very enlightening and useful information that I can't imagine getting in any other course for continuing education. You are so right, this was never covered in law school."
J. Wesley Bailey,
Attorney
"The class had a lot of practical application and was valuable in that it gave practical pointers about how to best serve our clients. Implementation of this advice would better the reputation of lawyers as a profession. "
Tasha Pepper Dickinson,
Jones, Foster, Johnston & Stubbs
"My experience with client development was limited before this course, though now (as a result of this program) I feel much more prepared to make rain and develop my own book of business."
Eric Ballou,
The Nelson Law Firm