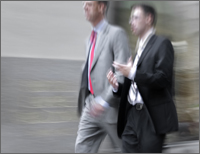 "I wish all of my CLE classes were this enjoyable and meaningful; which would make getting my 12 hours a year something to look forward to rather than dread."
Robert Brent Crews,
Crews Law Firm
"I was pleasantly surprised with the depth or probing of human motivations and the promotion of seeking win-win resolutions, a trait that I find sorely missing in the profession."
Mark Baker,
Attorney
"Useful for all lawyers, newly practicing or established."
Alice Carmichael Richey,
Parker Poe Adams & Bernstein
"Great material presented in an easy, straight-forward manner to enhance professional relationships with clients, staff and colleagues."
Robert Piacente,
Fagen, Friedman & Fulprost
"Best CLE I've had. The technology was top notch and the presenter was like talking to a friend or co-worker. This will help me to deal better with my clients in the future."
Jeremy Hays,
Attorney, Myler Disability