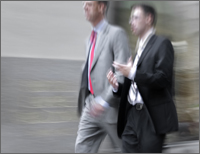 "Easily the most interesting CLE I've had in years. I recommend it to anyone in any law field."
David Hanson,
Manley Deas Kochaiski
"Very interesting seminars with lots of useful concepts that can be utilized in my everyday dealings with people - both professionally and personally."
Mark Braun,
Baker & Hostetler
"This course demonstrates the importance of pathos in persuasion with realistic examples of how communication and negotiation can go awry, and how it can be righted."
Christine Dehney,
Attorney
"I found the seminar to provide very useful insights into people's perceptions of each other and important ideas about how to communicate more clearly and effectively. I would recommend the course to anyone."
Angus King ,
Former Governor of Maine
"The most interesting and useful MCLE courses I have ever taken in my 20+ years of taking courses."
Jeremy Katz,
Pinnacle Law Group