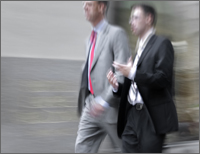 "Another excellent seminar from The Likeable Lawyer. The concepts learned are as important—no, more important—than the latest legislative or appellate update. Very useful and enlightening."
James Johnson,
Lommen, Abdo, Cole, King & Stageberg
"Great seminar—outstanding presenter!"
Ian Bradford,
Attorney, Fisher-Price
"This class is valuable because it helps you get outside your own head and gives you ways to see things from the other side's perspective, which is how true persuasion begins."
Robert Jackson,
Portland Superior Court
"This course is an eye and ear opener. Common pitfalls with clients will be easier to spot and more easily remedied after taking this seminar."
Alexis Johnson,
Attorney
"If I were king of the world, courses like this would be mandatory. This course will help to make me not just a better lawyer, but a more effective communicator with family, friends and others."
Eric Rathburn,
Attorney