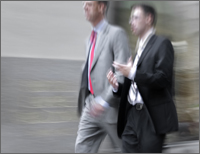 "Very interactive. I liked the way the speaker used our comments to further his points. It was a very thoughtful CLE."
David Kutik,
Jones Day
"Excellent course. Surprisingly relevant to all aspects of my practice and my life."
Tracy Forsythe,
Attorney
"Indispensable knowledge rarely taught anywhere in the legal profession. "
Erika Diaz,
Los Angeles Center for Law and Justice
"This course gives a thoughtful and well-grounded analysis of persuasion theory. Very insightful."
Lee Mickus,
Taylor Anderson LLP
"The class had a lot of practical application and was valuable in that it gave practical pointers about how to best serve our clients. Implementation of this advice would better the reputation of lawyers as a profession. "
Tasha Pepper Dickinson,
Jones, Foster, Johnston & Stubbs