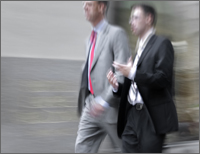 "Great seminar—outstanding presenter!"
Ian Bradford,
Attorney, Fisher-Price
"One of the best—and certainly the most practical—seminars I have taken on negotiation."
Paige Williams,
FedEx Corp. Legal Dept.
"I came to this class because I needed ethics credit and got a lot more! This class was quite a surprise and far exceeded my expectations."
John Stewart,
Attorney, Intellectual Ventures
"This was the most valuable CLE course I've ever attended, focusing on the core of our profession—service for our clients."
Maggie Doyle,
Hensel Phelps Construction Co.
"A very interesting, insightful presentation. The seminar flew by."
Dan Pinkston,
U.S. Department of Justice