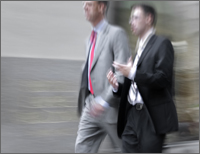 "Excellent balance of applicable knowledge with real world examples. A fun way to satisfy CLE requirements from my desktop. The instructor was prepared and easy to follow."
James Hall,
Hall Johnson LLC
"Very informative, entertaining, and useful for attorneys in all practice areas, not just litigators."
Allison Turnbull,
Baker Hostetler
"You will negotiate better after taking this course. I liked the seamless relation of Aristotelian principles to the neuroscience of what gets people to agree."
Marie Jordan,
Attorney, JP Morgan Chase
"This course was filled with concrete examples, and teaches important fundamentals for improving lawyer and client relationships."
Michael Russ,
King and Spalding
"This class will be very useful, giving great practical analysis of ways to communicate and persuade, and help move my positions along in all parts of my life, professionally and personally."
Michael Jaskolsky,
Quarles & Brady