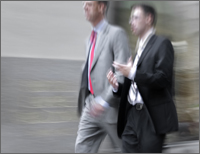 "I was thrilled to find CLE courses that actually focused on the human dimensions of legal competence. The courses I took did not disappoint and were full of both theoretical and practical nuggets I have not seen in any other CLE courses."
Jane Ruddell,
Attorney, Health Care Resolutions
"This class is valuable because it helps you get outside your own head and gives you ways to see things from the other side's perspective, which is how true persuasion begins."
Robert Jackson,
Portland Superior Court
"This class is so much more interesting than 99% of the CLE's I've ever taken. The tools I've learned apply to many areas of my life. Thank you so much!"
Nancy Martinez,
Law Offices of Nancy Martinez
"This was one of the best seminars I have participated in. The information was useful, practical, insightful and empowering. It was definitely more than I had anticipated or expected."
Therese Picard,
Daley & Orton
"Another excellent seminar from The Likeable Lawyer. The concepts learned are as important—no, more important—than the latest legislative or appellate update. Very useful and enlightening."
James Johnson,
Lommen, Abdo, Cole, King & Stageberg