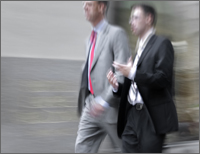 "The most interesting and useful MCLE courses I have ever taken in my 20+ years of taking courses."
Jeremy Katz,
Pinnacle Law Group
"Content was excellent. I had never taken a webinar class but thought it worked very well."
Holly Wheeler,
U.S. Dept. of the Interior, Office of the Solicitor
"Excellent program for all lawyers that offers different methods to improve interactions with clients, opposing counsel and staff. "
Scott Allinson,
Norris, McLaughlin & Marcus
"Deceptively good. Better than I anticipated."
Blair Parker,
Parker and Edwards
"This was one of the best CLEs I have ever attended in 20+ years of practice. The substantive content was meaningful and can be applied immediately to both legal and personal interactions. A refreshing change from the "norm" of presenters reading their PowerPoint slides."
Lois Eisenstein,
Attorney, University of Arizona