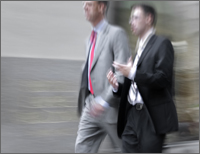 "A very interesting, insightful presentation. The seminar flew by."
Dan Pinkston,
U.S. Department of Justice
"Engaging and articulate facilitator, clear and well organized presentation, great content. "
James Ficaro,
The Weiser Law Firm
"I really liked the conversational nature of the course and found it to be very engaging, helpful and informative. Much more fun than I have experienced before in a CLE program."
Nicole Stach,
Morgan Lewis
"One of the best—and certainly the most practical—seminars I have taken on negotiation."
Paige Williams,
FedEx Corp. Legal Dept.
"Very interesting content that made me think about the PROCESS of negotiation in aways I hadn't before. Essential for all attorneys."
Leah W. Sprague,
Attorney