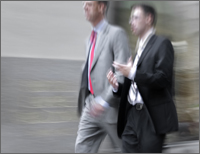 "As a college professor, I am keenly aware that it is just as important in the delivery of information as it is in the content of that which is being delivered. I am pleased to say that The Likeable Lawyer was successful in creating a confluence where the two met with remarkable results."
Sherman Anderson,
Attorney
"I was truly impressed and surprised. This was by far one of the most beneficial, practical, engaging and enjoyable CLE seminars I have experienced. I will definitely be a repeat student."
Rochelle McCrackin,
Attorney
"It is hard to come up with something fresh in a negotiation course. This one offers several gems."
J. Stanton Curry,
Gallagher & Kennedy
"This seminar is critical for every person who wants to succeed in the practice of law and understand and overcome the challenges inherent with representing clients."
Guy Brown,
Attorney
"Very interesting and informative CLE. One of the best that I have participated in."
Chris Bergeman,
Righi Law Group