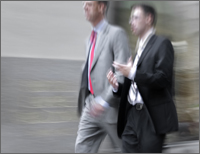 "Excellent aid in a high-stress environment. Very interesting and helpful. More importantly, it kept my attention. This guy offers quite a few insights that you might not ever think of."
David G. Utley,
Davis & Young
"The class had a lot of practical application and was valuable in that it gave practical pointers about how to best serve our clients. Implementation of this advice would better the reputation of lawyers as a profession. "
Tasha Pepper Dickinson,
Jones, Foster, Johnston & Stubbs
"This course was vastly superior in subject matter to any other CLE I've attended. The material is brilliant. Most importantly, it reminded me that there is an art and beauty to our practice."
Caitlin Stewart,
Persels & Associates
"Extremely practical how-to course filled with useful negotiation tools. Provides insight into diagnosing the needs of your negotiation opponent that will allow you to increase the chances of obtaining successful outcomes."
Shawn Doorhy,
Faegre Baker Daniels LLP
"This class is valuable because it helps you get outside your own head and gives you ways to see things from the other side's perspective, which is how true persuasion begins."
Robert Jackson,
Portland Superior Court