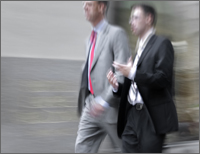 "The class had a lot of practical application and was valuable in that it gave practical pointers about how to best serve our clients. Implementation of this advice would better the reputation of lawyers as a profession. "
Tasha Pepper Dickinson,
Jones, Foster, Johnston & Stubbs
"The value of this class is extremely high."
Kenneth A. Miller III,
Miller Law Offices PLLC
"If I were king of the world, courses like this would be mandatory. This course will help to make me not just a better lawyer, but a more effective communicator with family, friends and others."
Eric Rathburn,
Attorney
"Excellent instructor and valuable material on working more effectively with clients and lawyers. Filled with thoughtful suggestions that will enhance my legal skill."
Patricia J. O'Donnell,
Baker Hostetler
"Easily the most interesting CLE I've had in years. I recommend it to anyone in any law field."
David Hanson,
Manley Deas Kochaiski