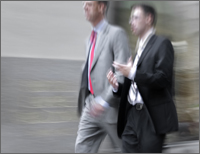 "Thoughtful presentation and content. High value."
Randolph Ruff,
Ogletree Deakins
"The course content and concepts were absolutely excellent! I cannot think of a more helpful course for any lawyer to take. I have practiced law for 38 years and have never attended a course that had more practical, concrete and excellent information for lawyers."
Nina Preston,
Attorney, Arizona Supreme Court
"As with the other courses that I have taken with this CLE provider, I found the information contained in this course to be exceedingly relevant in my current practice areas."
Corey Thompson,
Attorney
"This course was vastly superior in subject matter to any other CLE I've attended. The material is brilliant. Most importantly, it reminded me that there is an art and beauty to our practice."
Caitlin Stewart,
Persels & Associates
"One of the best ethics seminars I have seen in a long time. The examples and scenarios effectively illustrated the points made. Exceeded my expectations. "
Kate Patterson,
Patterson Ehrhardt, PLLC