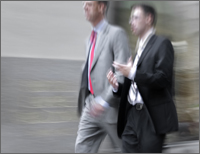 "I thought it would be another dry ethics and professionalism course, but it was the most exciting and practical course I have attended."
Richard Crollett,
New Mexico Workers' Compensation Administration
"This class provides strategies for dealing with staff, superiors, adversaries and people in general that are workable and memorable, and can help better manage a stressful practice."
Denise Carlon,
Zucker, Goldberg & Ackerman
"The class had a lot of practical application and was valuable in that it gave practical pointers about how to best serve our clients. Implementation of this advice would better the reputation of lawyers as a profession. "
Tasha Pepper Dickinson,
Jones, Foster, Johnston & Stubbs
"If I were king of the world, courses like this would be mandatory. This course will help to make me not just a better lawyer, but a more effective communicator with family, friends and others."
Eric Rathburn,
Attorney
"An excellent course for understanding the "customer service" aspect of representing clients--it is not all about case citations, pure knowledge, or experience. It is about earning client trust first and foremost. Highly recommended. "
Jim Franklin,
Schroeder & Griffith