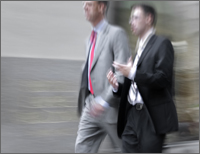 "I was truly impressed and surprised. This was by far one of the most beneficial, practical, engaging and enjoyable CLE seminars I have experienced. I will definitely be a repeat student."
Rochelle McCrackin,
Attorney
"A surprisingly fun and thought-provoking way to get CLE, including the dreaded ethics credits!"
Linda Laarman,
Attorney
"One of the best classes I have attended. It was very thought-provoking with real-world scenarios and important human/emotional insights which will be useful in dealing with clients."
Henry Koltys,
Mediation for Resolution
"The value of this class is extremely high."
Kenneth A. Miller III,
Miller Law Offices PLLC
"The class had a lot of practical application and was valuable in that it gave practical pointers about how to best serve our clients. Implementation of this advice would better the reputation of lawyers as a profession. "
Tasha Pepper Dickinson,
Jones, Foster, Johnston & Stubbs