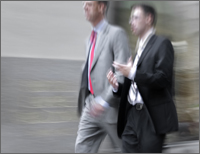 "The class was a very good reminder of what makes people tick, how to more easily persuade them, and how to be a "likeable lawyer" for those of us for whom that is important."
Ned Menoyo,
Quinn Emanuel Urquhart & Sullivan
"Content was excellent. I had never taken a webinar class but thought it worked very well."
Holly Wheeler,
U.S. Dept. of the Interior, Office of the Solicitor
"One of the best—and certainly the most practical—seminars I have taken on negotiation."
Paige Williams,
FedEx Corp. Legal Dept.
"Thought provoking, entertaining and informative. The instructor made the material come to life."
Gretchen Jacobs,
Arizona Governmental Affairs
"It is hard to come up with something fresh in a negotiation course. This one offers several gems."
J. Stanton Curry,
Gallagher & Kennedy