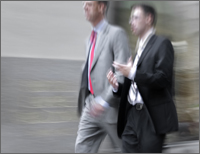 "Excellent aid in a high-stress environment. Very interesting and helpful. More importantly, it kept my attention. This guy offers quite a few insights that you might not ever think of."
David G. Utley,
Davis & Young
"In a very convenient succinct manner, The Likeable Lawyer conveys critical components of being effective at leadership and persuasion."
Jean Tuffet,
Attorney
"This class is so much more interesting than 99% of the CLE's I've ever taken. The tools I've learned apply to many areas of my life. Thank you so much!"
Nancy Martinez,
Law Offices of Nancy Martinez
"Easily the most interesting CLE I've had in years. I recommend it to anyone in any law field."
David Hanson,
Manley Deas Kochaiski
"This class addresses issues rarely mentioned but critical to success in practicing law."
Stephen Sutton,
Lathrop & Gage