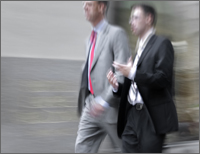 "Fantastic, helpful and insightful ... different from any previous CLE class I have taken."
Michael Schwartz,
Attorney
"Best CLE I've had. The technology was top notch and the presenter was like talking to a friend or co-worker. This will help me to deal better with my clients in the future."
Jeremy Hays,
Attorney, Myler Disability
"This class is valuable because it helps you get outside your own head and gives you ways to see things from the other side's perspective, which is how true persuasion begins."
Robert Jackson,
Portland Superior Court
"Fantastic class. Definite eye opener."
Adam Tamas,
Attorney, DST Systems
"A fresh look at aspects of the practice of law that can provide real day-to-day benefits."
Pat Leddy,
Jones Day