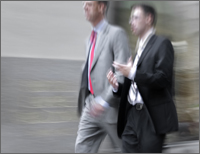 "Class content exceeded my expectations. I signed up merely to check off required professionalism credits, and came away with several practical tips that will be useful in my practice."
Louann Bronstein,
Stites & Harbison
"The Trusted Lawyer is easily the best CLE investment I made all year. "
Joseph F. Capello,
Stathopulos & Associates
"Useful for all lawyers, newly practicing or established."
Alice Carmichael Richey,
Parker Poe Adams & Bernstein
"One of the best—and certainly the most practical—seminars I have taken on negotiation."
Paige Williams,
FedEx Corp. Legal Dept.
"This class will be very useful, giving great practical analysis of ways to communicate and persuade, and help move my positions along in all parts of my life, professionally and personally."
Michael Jaskolsky,
Quarles & Brady