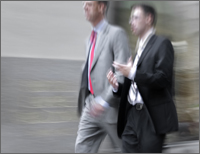 "Excellent course. Surprisingly relevant to all aspects of my practice and my life."
Tracy Forsythe,
Attorney
"The class had a lot of practical application and was valuable in that it gave practical pointers about how to best serve our clients. Implementation of this advice would better the reputation of lawyers as a profession. "
Tasha Pepper Dickinson,
Jones, Foster, Johnston & Stubbs
"Thoughtful presentation and content. High value."
Randolph Ruff,
Ogletree Deakins
"This CLE has a surprisingly immediate and deep impact on the lawyers who take it. I expect that this will really alter my practice, and that is a first for CLEs."
Lauren Harrison,
Vinson & Elkins
"This class provided tools for dealing with conflict arising from difficult personalities and will help me better navigate such situations and achieve better results for my clients."
David Powers,
Rose Harrison & Gilreath