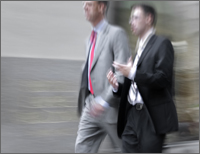 "This course is an eye and ear opener. Common pitfalls with clients will be easier to spot and more easily remedied after taking this seminar."
Alexis Johnson,
Attorney
"As a college professor, I am keenly aware that it is just as important in the delivery of information as it is in the content of that which is being delivered. I am pleased to say that The Likeable Lawyer was successful in creating a confluence where the two met with remarkable results."
Sherman Anderson,
Attorney
"The program exceeded my expectations. I found the speakers very engaging and maintained strong group participation. The Likeable Lawyer programs offer flexibility in meeting CLE requirements combined with the ambiance of a discussion among a small group of peers."
Dale Clemence,
Booz Allen Hamilton
"Class content was excellent. Great breakdown of negotiation tactics and related skills."
Steven Brandstedt,
Litchfield Cavo LLP
"As with the other courses that I have taken with this CLE provider, I found the information contained in this course to be exceedingly relevant in my current practice areas."
Corey Thompson,
Attorney