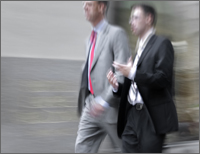 "One of the best MCLE classes I've ever taken because it has such broad application. It's not just for interacting with clients but with all human beings, and we could all use a primer or refresher on that! As I sat in class I thought to myself: This should be taught in law school. "
Kristin Matsuda,
Attorney
"Excellent instructor; valuable material on working with clients and lawyers. Thoughtful suggestions that will enhance my legal skill."
Patricia J. O'Donnell,
Baker Hostetler
"The course content and concepts were absolutely excellent! I cannot think of a more helpful course for any lawyer to take. I have practiced law for 38 years and have never attended a course that had more practical, concrete and excellent information for lawyers."
Nina Preston,
Attorney, Arizona Supreme Court
"Very informative, entertaining, and useful for attorneys in all practice areas, not just litigators."
Allison Turnbull,
Baker Hostetler
"As a college professor, I am keenly aware that it is just as important in the delivery of information as it is in the content of that which is being delivered. I am pleased to say that The Likeable Lawyer was successful in creating a confluence where the two met with remarkable results."
Sherman Anderson,
Attorney