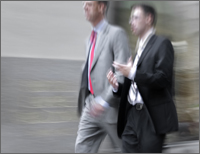 "It is hard to come up with something fresh in a negotiation course. This one offers several gems."
J. Stanton Curry,
Gallagher & Kennedy
"The class content exceeded my expectations and caused me to think about the kind of person I come across as, which is important but not a subject lawyers are usually trained on."
John Lamb, Attorney,
Caterpillar Financial Services
"The course incorporates timeless principles from psychology and philosophy to inform and educate the legal practice. Fascinating class."
Adam Freed,
Proskauer Rose
"Content was excellent. I had never taken a webinar class but thought it worked very well."
Holly Wheeler,
U.S. Dept. of the Interior, Office of the Solicitor
"One of the best classes I have attended. It was very thought-provoking with real-world scenarios and important human/emotional insights which will be useful in dealing with clients."
Henry Koltys,
Mediation for Resolution