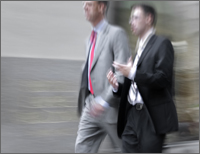 "The class was very enjoyable. It contains real life insight into how to effectively deal with everyone I deal with in the practice of law."
Deborah Truitt,
Truitt and Lyons
"This program is terrific, the content outstanding. It provided step-by-step advice about how to create a more successful and rewarding law practice."
Elizabeth Thompson,
Jones Bothwell Dion & Thompson
"Excellent examination of the solutions for client satisfaction that are often over-looked during representation."
Ryan Thompson,
Godin & Baity
"A fresh look at aspects of the practice of law that can provide real day-to-day benefits."
Pat Leddy,
Jones Day
"The course was excellent, insightful and lent itself to immediate application."
Tracee Lewis,
Baker Botts