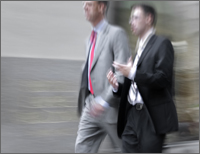 "The class had a lot of practical content and challenged me in concrete and believable ways."
John Shenk,
Ervin, Cohen and Jessup
"One of the best—and certainly the most practical—seminars I have taken on negotiation."
Paige Williams,
FedEx Corp. Legal Dept.
"The course exceeded my expectations. The workbook was excellent and the use of film clips made the course enjoyable."
Lindsey Chepke,
Attorney, Duke University
"A very interesting, insightful presentation. The seminar flew by."
Dan Pinkston,
U.S. Department of Justice
"The class was a very good reminder of what makes people tick, how to more easily persuade them, and how to be a "likeable lawyer" for those of us for whom that is important."
Ned Menoyo,
Quinn Emanuel Urquhart & Sullivan