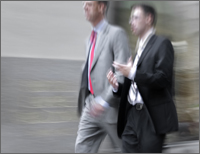 "Very informative and effective seminar! One of my favorites!"
Mary Ellen Spiece,
Wilkes & McHugh
"This was the most valuable CLE course I've ever attended, focusing on the core of our profession—service for our clients."
Maggie Doyle,
Hensel Phelps Construction Co.
"Excellent. Makes you reevaluate your interactions with other lawyers. staff and clients towards becoming more successful as a lawyer and person."
Brad Goodwin,
Attorney
"One of the best classes I have attended. It was very thought-provoking with real-world scenarios and important human/emotional insights which will be useful in dealing with clients."
Henry Koltys,
Mediation for Resolution
"This course was filled with concrete examples, and teaches important fundamentals for improving lawyer and client relationships."
Michael Russ,
King and Spalding