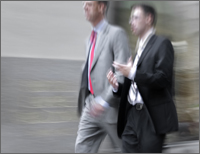 "Likeable Lawyer seminars are the only CLEs I actually put to use - over and over again. My contract negotiations are much less stressful due to the techniques and knowledge I've gained from The Likeable Lawyer."
Marie Jordan,
JP Morgan Chase
"This CLE has a surprisingly immediate and deep impact on the lawyers who take it. I expect that this will really alter my practice, and that is a first for CLEs."
Lauren Harrison,
Vinson & Elkins
"You will negotiate better after taking this course. I liked the seamless relation of Aristotelian principles to the neuroscience of what gets people to agree."
Marie Jordan,
Attorney, JP Morgan Chase
"Classes like this -- on human interactions -- are as valuable as any substantive CLE we might take. Interacting with people is fundamental to what we do. The legal profession needs more of this type of teaching. The program is very well curated, and Brian does an excellent job."
Michael Hamilton,
DLA Piper LLP
"Inspirational on high levels, both practical and down to earth. Every lawyer (as well as their family members, co-workers, bosses and subordinates) would benefit from this course. "
Charlene Li,
Attorney