Audio MP3 Download
Negotiation Success 1: The Principles of Expansive Negotiation
This class has been CANCELLED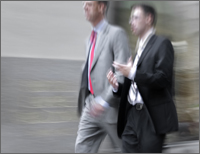 "The class content exceeded my expectations and was very helpful (more helpful than most CLEs)."
Sean Ambrose,
Attorney
"This course was filled with concrete examples, and teaches important fundamentals for improving lawyer and client relationships."
Michael Russ,
King and Spalding
"Classes like this -- on human interactions -- are as valuable as any substantive CLE we might take. Interacting with people is fundamental to what we do. The legal profession needs more of this type of teaching. The program is very well curated, and Brian does an excellent job."
Michael Hamilton,
DLA Piper LLP
"The class had a lot of practical application and was valuable in that it gave practical pointers about how to best serve our clients. Implementation of this advice would better the reputation of lawyers as a profession. "
Tasha Pepper Dickinson,
Jones, Foster, Johnston & Stubbs
"This course gave me practical tools I can use to be more effective in my work, and did it in an entertaining way. Like other Likeable Lawyer programs, this was enjoyable, effective, and a convenient way to meet CLE requirements."
Chris Kallaher,
Direct Energy