Audio MP3 Download
Basis of Influence 4: Consequences of Unintentional Communication
This class has been CANCELLED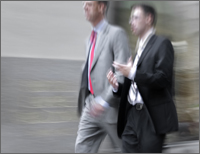 "This program discusses ethos, pathos and logos not only in building professional relationships generally, but also makes it relevant to each participant's individual situation. The webinar is interactive and entertaining which is sometimes rare for a program with a basis in ethics. Highly recommended."
Amanda Owens,
White & Allen
"This course demonstrates the importance of pathos in persuasion with realistic examples of how communication and negotiation can go awry, and how it can be righted."
Christine Dehney,
Attorney
"The Trusted Lawyer is helpful to any lawyer who wants to build trust with clients, colleagues and opposing counsel."
Bryan Tyson,
Marcellino & Tyson, PLLC
"This program is terrific, the content outstanding. It provided step-by-step advice about how to create a more successful and rewarding law practice."
Elizabeth Thompson,
Jones Bothwell Dion & Thompson
"This seminar is critical for every person who wants to succeed in the practice of law and understand and overcome the challenges inherent with representing clients."
Guy Brown,
Attorney