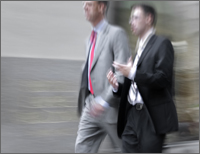 "This class is valuable because it helps you get outside your own head and gives you ways to see things from the other side's perspective, which is how true persuasion begins."
Robert Jackson,
Portland Superior Court
"This course offers very practical and easily implemented tools to improve your influence with others and the quality of your legal practice."
Darrin Jeffries,
Plattner, Schneidman & Schneider
"This was the most valuable CLE course I've ever attended, focusing on the core of our profession—service for our clients."
Maggie Doyle,
Hensel Phelps Construction Co.
"If I were king of the world, courses like this would be mandatory. This course will help to make me not just a better lawyer, but a more effective communicator with family, friends and others."
Eric Rathburn,
Attorney
"Deceptively good. Better than I anticipated."
Blair Parker,
Parker and Edwards