Audio MP3 Download
Basis of Influence 3: Active Listening and Learning Conversations
This class has been CANCELLED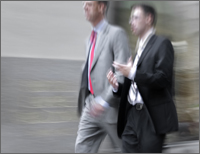 "The program content is suited well for lawyers no matter what area of practice. Both in handling client relationships and adversary relationships with other lawyers. It is a good value. "
James P. Burnett,
Lutz, Burnett, McDermott, Jahn & King
"Excellent program for all lawyers that offers different methods to improve interactions with clients, opposing counsel and staff. "
Scott Allinson,
Norris, McLaughlin & Marcus
"Excellent balance of applicable knowledge with real world examples. A fun way to satisfy CLE requirements from my desktop. The instructor was prepared and easy to follow."
James Hall,
Hall Johnson LLC
"A very interesting, insightful presentation. The seminar flew by."
Dan Pinkston,
U.S. Department of Justice
"The class exceeded my expectations in providing clear tools for any litigator to be more persuasive and effective in negotiating and arguing on behalf of clients."
Randy Canche,
Munsch, Hardt, Kopf & Harr