Audio MP3 Download
Basis of Influence 3: Active Listening and Learning Conversations
This class has been CANCELLED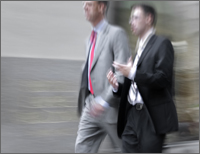 "Best CLE I've had. The technology was top notch and the presenter was like talking to a friend or co-worker. This will help me to deal better with my clients in the future."
Jeremy Hays,
Attorney, Myler Disability
"Content was excellent. I had never taken a webinar class but thought it worked very well."
Holly Wheeler,
U.S. Dept. of the Interior, Office of the Solicitor
"One of the best ethics seminars I have seen in a long time. The examples and scenarios effectively illustrated the points made. Exceeded my expectations. "
Kate Patterson,
Patterson Ehrhardt, PLLC
"This is one of the most informative and engaging CLE classes I've taken. I wish I had taken it years ago."
James E. Fearn,
Seattle Housing Authority
"Another excellent seminar from The Likeable Lawyer. The concepts learned are as important—no, more important—than the latest legislative or appellate update. Very useful and enlightening."
James Johnson,
Lommen, Abdo, Cole, King & Stageberg