CLE Seminars in All Formats
All webinar / teleconference times are displayed in Central Standard Time unless otherwise noted.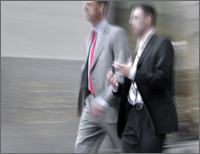 "Fantastic class. Definite eye opener."
Adam Tamas,
Attorney, DST Systems
"Absolutely fabulous CLE! The Basis of Influence Series is very thoughtful and tackles interpersonal relationships that lawyers encounter. The lessons will greatly affect the practice of law for anyone and these topics are not often approached or discussed."
Jane Harvey,
Attorney
"Very good content and the webinar is a pleasant way to earn CLE credits."
James Adams,
Frost, Brown, Todd
"The program content is suited well for lawyers no matter what area of practice. Both in handling client relationships and adversary relationships with other lawyers. It is a good value. "
James P. Burnett,
Lutz, Burnett, McDermott, Jahn & King
"This course offers very practical and easily implemented tools to improve your influence with others and the quality of your legal practice."
Darrin Jeffries,
Plattner, Schneidman & Schneider