Login
Has your e-mail address changed?
If you've forgotten your password and no longer use the e-mail address associated with your LikeableLawyer.com account, you may choose from the following:
1) Log in (above) and change your email address. (Forgot your password?)
OR:
2) Create a new LikeableLawyer.com account:
Enter your email address above and press Create account
OR:
3) Call us and a representative will be happy to make a change for you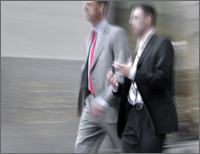 "I was pleasantly surprised with the depth or probing of human motivations and the promotion of seeking win-win resolutions, a trait that I find sorely missing in the profession."
Mark Baker,
Attorney
"The Trusted Lawyer is helpful to any lawyer who wants to build trust with clients, colleagues and opposing counsel."
Bryan Tyson,
Marcellino & Tyson, PLLC
"Excellent course. Surprisingly relevant to all aspects of my practice and my life."
Tracy Forsythe,
Attorney
"Class content was excellent. Great breakdown of negotiation tactics and related skills."
Steven Brandstedt,
Litchfield Cavo LLP
"The best, most concise and meat-filled client development presentation for lawyers I've been to in my 30 years as a lawyer!"
Sandra Carr,
Attorney