Login
Has your e-mail address changed?
If you've forgotten your password and no longer use the e-mail address associated with your LikeableLawyer.com account, you may choose from the following:
1) Log in (above) and change your email address. (Forgot your password?)
OR:
2) Create a new LikeableLawyer.com account:
Enter your email address above and press Create account
OR:
3) Call us and a representative will be happy to make a change for you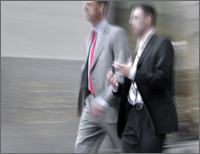 "Very enlightening and useful information that I can't imagine getting in any other course for continuing education. You are so right, this was never covered in law school."
J. Wesley Bailey,
Attorney
"This course gives lawyers tools to better balance life and work."
Mark Glasser,
King & Spalding
"Helpful to manage client relationships - particularly the more challenging relationships."
Sara Popovich,
Fragomen, Del Rey, Bernsen & Loewy
"Excellent aid in a high-stress environment. Very interesting and helpful. More importantly, it kept my attention. This guy offers quite a few insights that you might not ever think of."
David G. Utley,
Davis & Young
"Rather than sit through hours of lecture, do yourself a favor and attend courses by The Likeable Lawyer to gain practical insight to improve your practice."
Jessica Hackett,
Baker Donelson