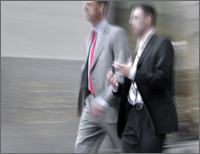 "Very interesting content that made me think about the PROCESS of negotiation in aways I hadn't before. Essential for all attorneys."
Leah W. Sprague,
Attorney
"Very good content and the webinar is a pleasant way to earn CLE credits."
James Adams,
Frost, Brown, Todd
"I was thrilled to find CLE courses that actually focused on the human dimensions of legal competence. The courses I took did not disappoint and were full of both theoretical and practical nuggets I have not seen in any other CLE courses."
Jane Ruddell,
Attorney, Health Care Resolutions
"I was truly impressed and surprised. This was by far one of the most beneficial, practical, engaging and enjoyable CLE seminars I have experienced. I will definitely be a repeat student."
Rochelle McCrackin,
Attorney
"Excellent. Makes you reevaluate your interactions with other lawyers. staff and clients towards becoming more successful as a lawyer and person."
Brad Goodwin,
Attorney