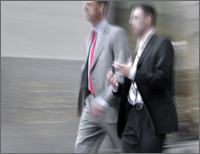 "Very interesting seminars with lots of useful concepts that can be utilized in my everyday dealings with people - both professionally and personally."
Mark Braun,
Baker & Hostetler
"I found the seminar to provide very useful insights into people's perceptions of each other and important ideas about how to communicate more clearly and effectively. I would recommend the course to anyone."
Angus King ,
Former Governor of Maine
"It is hard to come up with something fresh in a negotiation course. This one offers several gems."
J. Stanton Curry,
Gallagher & Kennedy
"The class had a lot of practical application and was valuable in that it gave practical pointers about how to best serve our clients. Implementation of this advice would better the reputation of lawyers as a profession. "
Tasha Pepper Dickinson,
Jones, Foster, Johnston & Stubbs
"Very interesting and informative CLE. One of the best that I have participated in."
Chris Bergeman,
Righi Law Group