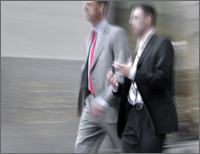 "This seminar is critical for every person who wants to succeed in the practice of law and understand and overcome the challenges inherent with representing clients."
Guy Brown,
Attorney
"Provides a helpful framework for understanding other interested parties in order to improve resolution of legal disputes, negotiations and interactions."
Christopher Kennedy,
Baker Botts
"Excellent program for all lawyers that offers different methods to improve interactions with clients, opposing counsel and staff. "
Scott Allinson,
Norris, McLaughlin & Marcus
"The class was very enjoyable. It contains real life insight into how to effectively deal with everyone I deal with in the practice of law."
Deborah Truitt,
Truitt and Lyons
"Inspirational on high levels, both practical and down to earth. Every lawyer (as well as their family members, co-workers, bosses and subordinates) would benefit from this course. "
Charlene Li,
Attorney